Computer Support for Your Company
Are you tired of looking for a computer service company that will provide you with an excellent customer support experience and value? Well, look no further, you have come to the right place! If your business is in need of quality hardware services, software or operating system upgrades and maintenance, training, networking maintenance and upgrading or installation services please stop by or contact our office today. Leave the tough stuff to us, while you sit back and relax knowing that your company is in good hands.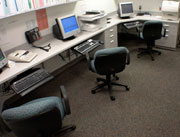 We Carry Top Name Manufacturers Like:

AMD
EVGA
Microsoft
Antec
Intel
Plextor
AOpen
Iomega
Samsung
APC
Lexmark
T-T
Asus
Logitech
Seagate
ATI
Linksys
WD
Creative
Maxtor
Viewsonic
Hardware Repair/Upgrades
Whether you are looking to have computer hardware repaired or have it upgraded, we are here to help! We carry only the best brand name parts for your computer and then install and test your computer to ensure it is performing at its peak. We provide service, support and repair for desktop, laptop and server computers. Normal repair turn-around times are 2-3 days. Some repairs may take longer depending on the severity of problem(s).


Network Support
Our Network Technicians can customize your small business computer network solution to meet your business requirements. We will arrange for an on-site networking consultation, where we will spend the time required obtaining a thorough understanding of your networking needs. We can provide new network installation, upgrade your existing computer network, and provide computer network training for you utilizing the latest in networking technology. We understand the importance of keeping your network running at its best. With the ability to install and test both fast Ethernet and Gigabit infrastructures, our network technicians can install new cable or upgrade your existing network cable. We offer comprehensive network support contracts to ensure that your network meets your company's needs. Serving the Greater Richmond VA area, Argus Computer Services is your complete business networking solutions provider.



Wireless Networking
With wireless networking capabilities expanding, we can help increase your employees' productivity and offer an attractive ROI by installing and managing a wireless network. Learn more about Argus Computer Services
wireless networking
and its advantages and opportunities for your small to medium business.
Computer Consultation Service
Whether you are a small business owner or a beginning home computer user, Argus Computer Services can develop a computer solution to fit your requirements. We will meet with you and assist you in determining what computer solution will result in the best user experience for you. Please contact our office to arrange for a computer consultation.
Computer Installation
We provide complete on-site installation service for small businesses. Whether you have a single computer or an entire office, Argus Computer Services can provide you with a professional on-site installation solution to improve the quality of your computer experience. We can minimize your downtime by installing your systems at a convenient time after business hours at no additional charge. Understanding the variety and individual circumstances of our clients, we quote all installation services on an individual basis.
On-Site Computer Training
Argus Computer Services provides specialized on site, in home computer training on a variety of concepts and will customize a computer training program for you. Whether you are a novice home user, or you are a new business, we can provide professional on site, in home computer training to assist you in developing your computer skills and increasing your employees' productivity.
Pricing
Minimum First Hour On-Site Service Rate: $95.00
Subsequent Hourly Rate: $75.00 Per Hour Billed In Quarter Hour Increments
In Shop Labor (Drop Off) or Remote Access Rate: $65.00 Per Hour Billed In Quarter Hour Increments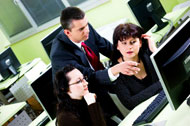 All on-site service calls will be charged a $40.00 travel charge in a addition to the regular hourly rate for travel within the greater Richmond area. Please call our
office
for quotes on rates outside this area.
Service Agreements
Service Agreements are available, please check
here
for details.
Remote Access
Another popular service that we offer at Argus Computer is the ability to remotely log into access your PC from our office to fix a problem quickly and efficiently! Please
click here
for more details on our Remote Access service.